Welcome!
My name is Hakeem Rahim and I want to welcome you into my world. In 2012, I began speaking openly about my 15 year journey with mental illness. Since then I have testified in front of Congress, been featured in USA Today and have shared my journey with over 10,000 college, high school and middle school students. Through NAMI Queens/Nassau's Let's Talk Mental Illness™ Presentation, I have been blessed to transform the way student think about mental illness and the highs and lows of life.
Where I am is not who I am
When I was going through my most difficult parts of my journey, I could not envision that one day I would be sharing my story to empower others.  Through my talks I share the messages that: its okay to talk about what you are going through; there is no shame in seeking treatment; and diagnosis with mental illness does not mean its the end.  I believe that ultimately, what you go through does not define you.
Be an Acceptance Ambassadors
Prior to speaking openly, some of my closest family and friends had no idea I was diagnosed with a mental illness. The shame I carried was heavy.  Now, the huge shadow of fear has receded. I have grown to accept myself.  Not everyone needs to speak about their struggles, but I believe everyone can accept the struggles they have. Whether your challenge is to rise out of bed on the hardest days, or to help others by publicly speak about what you are dealing with, you can still be provide encouragement and inspiration.
Join me as an acceptance ambassador! Wherever you are on your journey, together, we can empower, motivate, and inspire a whole generation.
Read My Full Story
| | | |
| --- | --- | --- |
| | Bring My Message To Your Students Or Staff | |
I'm not your average motivational speaker
I talk about the highs and lows of life. There is beauty in both. As the Acceptance Ambassador, I've had the honor of sharing my message with over 10,000 students all throughout the country. I've seen students smile and cry when they feel accepted, heard, known, and understood.
Colleges & Universities
My talks teach students how to navigate the highs and lows of college and to how to embrace the lessons from triumph and loss. Click here to learn more.
High Schools & Middle Schools
My talks transform the way students think about mental illness by providing facts, debunking myths and sharing my first hand success story. Click here to learn more.
Non-Profits & Conferences
My keynotes and workshops transform what it means to have a mental illness through personal story, statistics and lessons from lived experience. Click here to learn more.
In 2010, I got a chance to serve as the voice of my generation by representing the young people's perspective in Congress. This was a pivotal moment for me since my mission has always to been to learn from the highs and the lows of life.
Watch my testimony:
MY 2014 TESTIMONY
ON CAPITAL HILL
About The Book
Magenta Your Conscience is an inspirational book of original poems and quotes by mental health awareness expert, speaker, educator and advocate Hakeem Rahim, Ed.M, M.A. Magenta Your Conscience is a book for inspiration within the space of adversity. In six sections, Hakeem shares original poems and quotes gleaned from his 16+ year journey with mental illness. Each section addresses one of six themes: faith, hope, perseverance, confidence, motivation and love. To find out more about booking Hakeem for presentations, keynotes and workshops please visit HakeemRahim.com.
See Inside The Book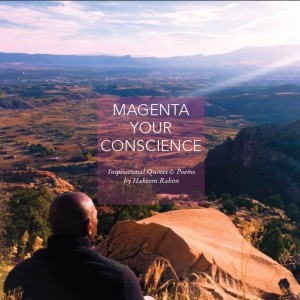 | | | |
| --- | --- | --- |
| | More Videos Worth Watching | |